Authors: Marcello Di Francesco and Davide Lopresti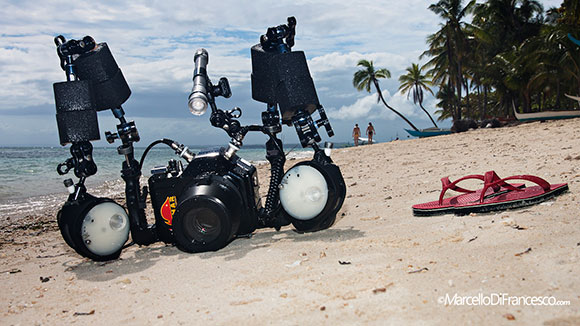 The Canon Eos 60D has been on the market for about a year now
and it is the top consumer Dsrl APS-C of the Japanese brand, it lies between the
entry level Eos 650D and the pro-consumer Eos 7D and it's in direct competition
with Nikon's D7000.
Thanks to a recent workshop in the Philippines we had the chance to test the
Canon Eos 60D for underwater use combined with the new dedicated housing
NI3DC60ZM by Nimar, Emilian company specialized in the production of housings
and gear for underwater photography and filmography.
Taking full advantage of our two weeks stay and also thanks to the great number
of dives, we were able to fully evaluate functionality and peculiarities of both
camera and housing, testing it during close up but also extreme macro
photography and naturally also during many wide angle shots; we can already say
we were able to achieve very satisfying results and acquire high quality images
in most situations, evaluating positively this set able to satisfy also the most
demanding users.


The complete Nimar set, including ports for the 60mm, the 100mm and dome port
for the Tokina 10-17mm
Let's start by listing the main characteristics of the
camera body:
18 Mpx APS CMOS sensor

multiplying factor 1,6x

lens mount EF and EFS

3:2 LCD screen of 1.040.000 pixel adjustable in all
directions

live-view function

96% optical viewfinder with 0,95x (0,59x real)
enlargement

ISO sensitivity from 100 to 6400, H (12800) expansion

three different RAW formats

autofocus 9 cross-type AF points (f/2.8 at centre) with
center point additionally sensitive with lenses F2.8 or faster

TTL full aperture metering with 63 zone Dual Layer

Focal-plane shutter 30 – 1/8000 sec

5.3 fps

image processor DIGIC 4

double control wheels and customizable controls

Full HD video 1920 x 1080 px at 24/25/30 fg/ with

Manual focusing controls and stereo audio with external
mic

wireless remote flash support

possibility to convert raw images and apply retouching in
camera

creative filters for special effects

reads SD/SDHC/SDXC cards instead of Compact Flash

HDMI port

Lithium-Ion LP-E6 rechargeable battery

dimensions 145x106x79 mm

weight 820 gr with card and battery
Who will decide to choose the Canon EOS 60D instead of the
entry level like the Canon 600D or 650D will certainly find a more luminous
viewfinder with greater coverage, a better and more precise auto focus, a higher
frame rate, longer lasting battery and a better ergonomics. Alternatively one
could consider the older sister EOS 7D, but the difference with the 60D relies
in the fact that the latter has a less advanced focusing system, it's not
tropicalized, slower frame rate and no fine tuning of the AF, smaller buffer and
uses SD instead of compact flash cards. In any case both models have the same
sensor, with identical dimensions and resolution (18MP APS-C) reproducing
identical image quality making the Canon Eos 60D overall a great reflex with
remarkable characteristic.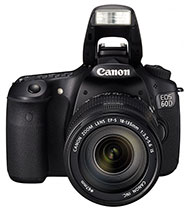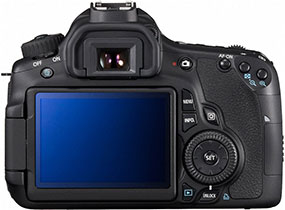 Canon Eos 60D
Let's finally introduce the new Nimar NI3DC60ZM housing, with
its pleasant and professional look, specially thanks to the black colour of the
"black" version, to its contained dimensions and weight slightly over 2kg. It
becomes very interesting to those who need to travel keeping low luggage weight
at check-ins, furthermore the two new side handles made of black abs are easily
removable with an allen for storage.
The new housing is truly well refined and its use immediately turns out to be
simple and practical. Just like for the housing of the sister Canon 7D, many are
the devices which characterize the new generation of housings of the Emilian
company.
The building material is the Bayer Makrolon Polycarbonate available either
transparent or black (it can only be ordered on request) for the "black" version,
it guarantees usage up to -60mt, also thanks to the steel clip hooks which
guarantee greater reliability, stability, practicality and speed in opening /
closing.
Light, ergonomic and easily removable are the new handles which become standard
on all Nimar housings from this model onwards. Through a steel loop the housing
can be attached with a harness to our gav while diving. Also important to notice
is the "T" shape which enables the connection with all types of arms connector.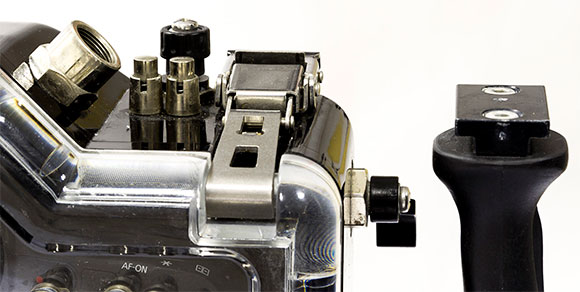 New closing hooks, Bulk head for flash connection and and T shaped base on the
handle
The underwater housing is supplied with eye and port holes
with zoom controller for Canon EF-S 18/55 mm f/3.5-5.6 IS lenses.
As for the cameras are many lenses available the same goes for the housing and
all port are listed on the factory's official website
www.nimar.it
for this specific test we've used port made by Delrin Nero for the Canon 100mm,
for the Canon 60mm and spherical domeport in optical glass dedicated to the
Tokina 10-17mm fisheye.
Some tech data:
housing material: Bayer Makrolon transparent (High
Quality Polymer)

Max usage depth: – 60mt

Dimensions with handles, loop and eye protection: B 34 cm
H.17 cm D. 32 cm

Weight of the housing without porthole with handles: kg
2,00

4 clip locks of Aisi 316 steel

Removable bayonet port

removable viewfinder, enlargement 1,5x

controls and inserts material: chrome brass

flash connector in chrome brass TTL 5 pins

humidity acoustic alarm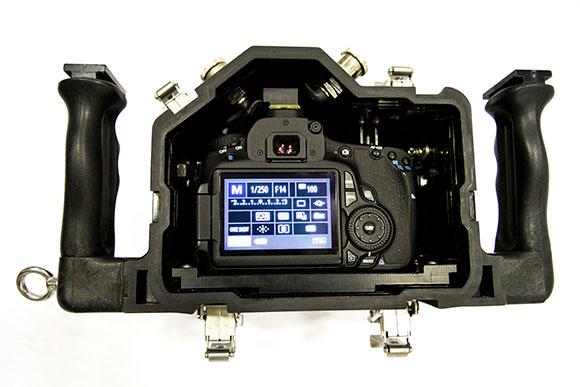 Back view: camera body housing, locking device and flash connector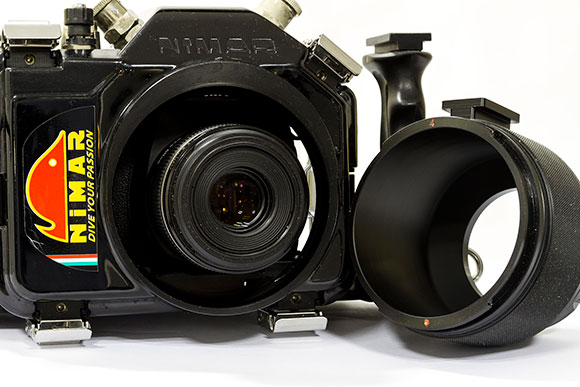 Just got on location and we are already setting up our diving
gear as well as our camera and housing; the new locking plate makes the entire
system very firm and locked avoiding even minimal movement while shooting,
flashes are attached via synch cables to the steel bulk head (on demand Nimar
can predispose also connectors for fiber optic cables), we put the o'rings of
the hood back into their position (we suggest you to take the OR off when flying
to avoid vacuum problems dues to sudden pressure change), connect the flash
connector to the hot-shoe positioned on the head of our camera, lock and we're
ready to start!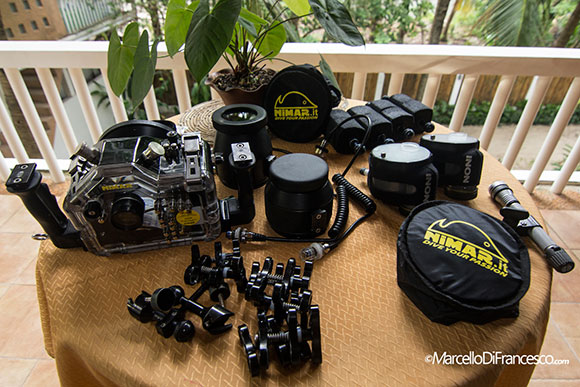 All controls are available on the back of the housing, and
since we've always work in manual mode we appreciate the fact that through two
wheels and two buttons on the front it'll always be possible
Shutter button is well calibrated and precise therefore we can't wait to test it
starting with a series of divings dedicated to macro photography.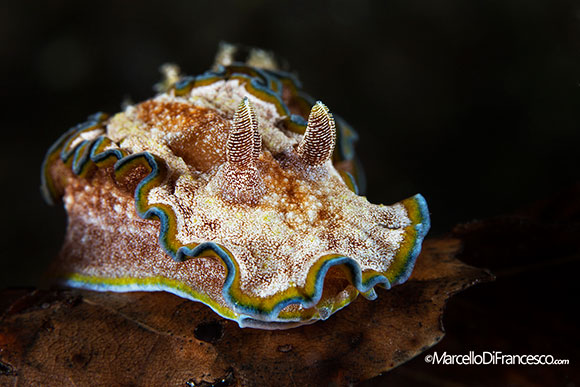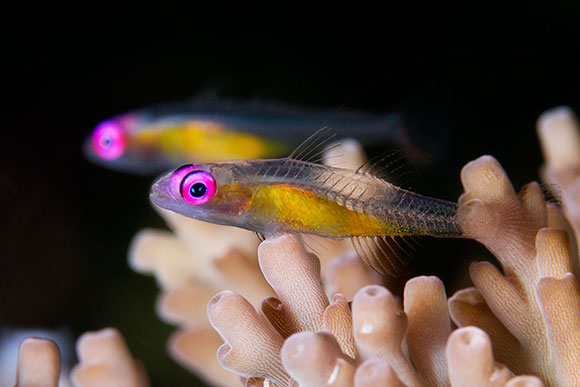 Philippines offer plenty of macro subjects! In not time we get used to the new
set.
We decided to go back to the Philippines because these sea
beds offer great variety of truly incredible macro subjects and divings take
often place at low depths and in totally relaxed conditions absolutely fortunate
for underwater photography.
We visited Cabilao island, south of Cebu in the southern vysayas: mandarin fish,
many species of nudibranchs, great variety of crabs and crinoid shrimps, frog
fish, ghost pipe fish, pygmy seahorses… are just a few of the encounters which
enabled us to test camera, lenses and housing with a great range of case studies
and situations to carefully evaluate the functioning in all shooting conditions.
Many were the clown fish species, a common subject, but not too easy to
photograph due to their quick movements, and that's why these cute fishes have
become right away a good chance to test precision and readiness of the shutter
button and to verify the functioning of the autofocus system of our new camera.
The Eos 60D derives its AF from the EOS 50D, with a 9 zone diamond shape AF
system, with each AF sensor sensible to the vertical and horizontal
characteristics "cross sensors". Results have been right away very satisfying,
the autofocus worked excellently focusing rapidly also in low light conditions,
shutter buttons has always been precise and ready for action, housing ergonomics
are excellent always ensuring a tight grip even with the index finger pressing
the shutter button half way.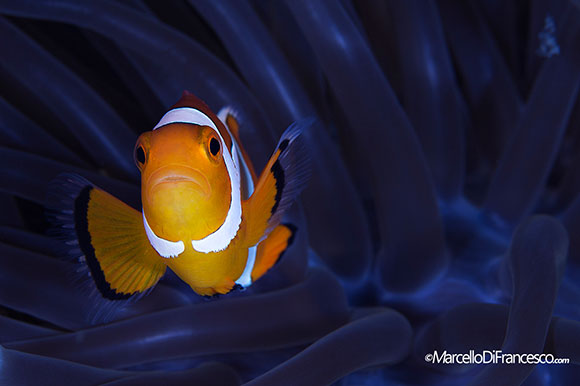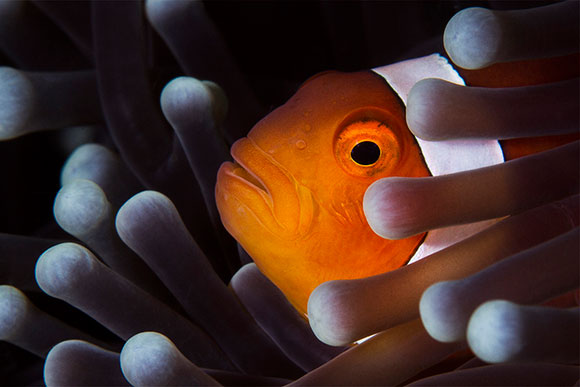 Clown fishes: a subject which will truly stress the autofocus of your camera!
Many were the crinoids and obviously many were the encounters
with shrimps and crabs, diners which usually live inside of them and from which
they pick up the colours.
There was no lack of whip corals also inhabited by gobies and shrimps, all
fascinating subjects to portray but also useful to fully test the macro
characteristics of our equipment. For this type of images we used the Canon 100
mm lens, taking full advantage of its focal length keeping at good distance not
to scare the shy corals' inhabitants but specially to use its shallow angle
isolating better the subjects with a more extreme and suggestive perspective;
thanks to all the controls on the back of the housing it was easy to change
focus points to our liking to better compose the images already during the
shooting.
The 100 mm lens is very useful for tiny subjects or when we want to obtain great
enlargements of certain details, and combining it with a diopter lens one can go
beyond the classical 1:1 reproduction ratio usually obtainable with dedicated
macro lenses. Nimar specially designed a m67 threaded adapter which fits to the
upper part of the port connecting it with a slight pressure; according to the
needs, it was therefore very easy to attach or remove in the water diopter
lenses; with smaller subjects we generally use the macro Inon Ucl-165 lens,
which enables a good enlargement keeping considerable image sharpness.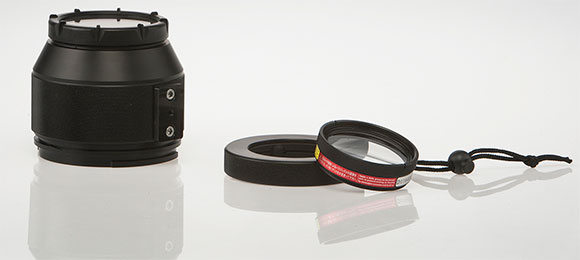 The macro kit: highlighting the Nimar m67 adapter and the lens Inon ucl-165
Please notice that in the water the complete kit with arms
and two flashes becomes slightly negative, no big deal, but to have greater
comfort and freedom in movements we suggest you add the floating sticks to the
arms making the whole perfectly neutral and balanced. For sure, you precision at
macro photography will improve considerably.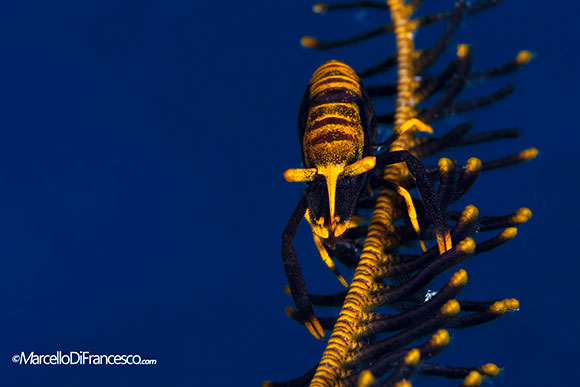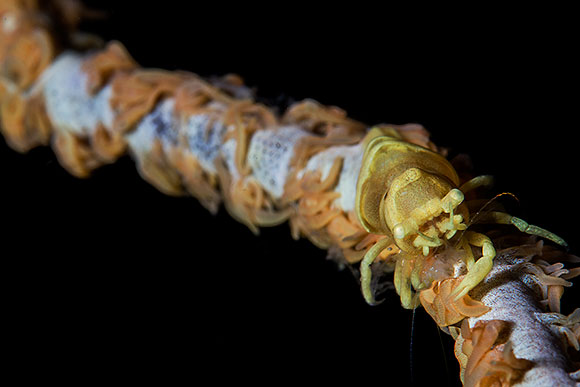 Thanks to the 100mm and to the positioning of the buttons on the back of the
housing which enable focus shifting, it has been easy to compose with the rule
of thirds!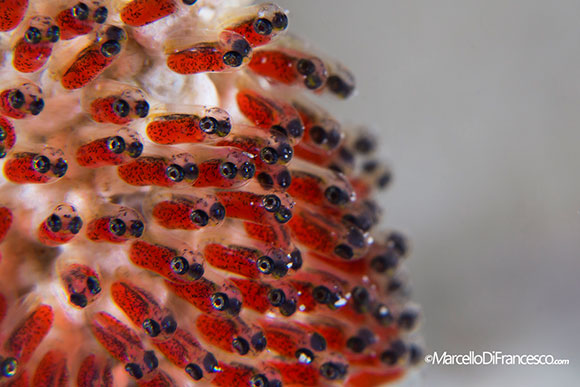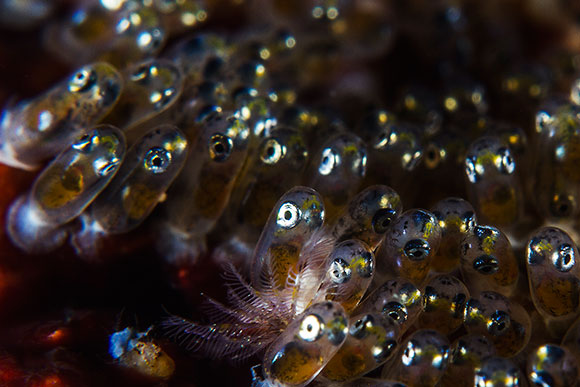 Using a diopter lens +6 screwed on to the 100mm port through the new adapter
made by Nimar, we are able to push our macro enlargements to a considerable
level; in these shots Clown Fish eggs ready to hatch.
Cabilao offers great spots for macro photography but also
divings along colourful vertical cliffs. The western side of the island is mainy
formed by long vertical drop off reaching a depth of 60mt where we find several
types of hard and soft corals, Acropora and colourful corals, massive massive
gornonia and sponges, ideal set to test our wide angle kit, stressing the Tokina
10-17mm combined to the custom Nimar dome equipped with zoom gear.
Also for wide angle shot we are pretty wont in setting our camera and flash in
manual mode enabling total control on the light in the frame, balancing ambient
and artificial light from our two inon z240. For these shots we have used the
new Inon diffusers which cool the color temperature bringing it from 5500 k to
4900 k saturating the background blu color.
The small dimension of the Nimar dome offers a wide range of usage letting us
space from true wide angle shots reaching also more close up images, the so
called CFWD (close focus wide angle) creating extreme and suggestive
perspectives.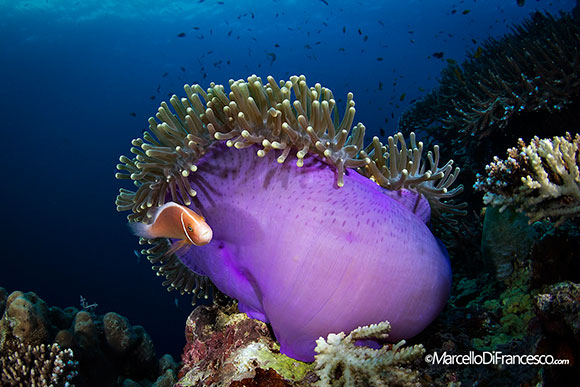 Canon 60D and Tokina 10-17mm FE in action during these wide angle shots.
During the wide angle sessions, exposure values are
constantly changed according to light conditions; we therefore appreciated the
fact that most regulations are accessible through the button Q on the back panel,
not loosing time inside the menu, keeping ready with exposure settings and
triggering through a simple button combination.
Auto white balance behaved very well. The camera set most of the times the right
colour temperature, only a few times just slightly off the optimal value, still
fixable during post production if one naturally has the shrewdness to shoot raw.
We also tried to push the ISO testing how far the Canon 60D could go without
affecting image quality and verified that up to 1600 noise is contained and
visible only in shadow parts. Going up to 3200 ISO noise appears also in the
midtones but still acceptable; while at 6400 noise becomes evident and also
sharpness drops showily.
Conclusions
For sure it's a camera able to produce high quality images, despite the only 9
cross focus points, AF behaved excellently and if combined to ultrasonic lenses
it offers more than satisfying speed and precision.
Sensor delivers high definition images if one uses good quality lenses and is
comfortable using post production software to enhance its characteristics.
Viewfinder is big and luminous even if coverage is at 96%, the focus crosses are
highlighted in red, visible and comfortable to use; there is no AF fine tuning
of the lenses – fortunately we didn't feel the need of it with the lenses we
used but it certainly could be a characteristic to take into consideration.
The new Nimar housing behaved very well in all situations: robust, practical to
use, ergonomic and with very precise commands specially the shutter button which
turns out to be soft, well calibrated and ready for use.
Basically a very ductile housing with quality characteristics, easy to use, fast
to assemble, comfortable and light to carry, that make this housing an ideal
companion along your travels and adventures around the world.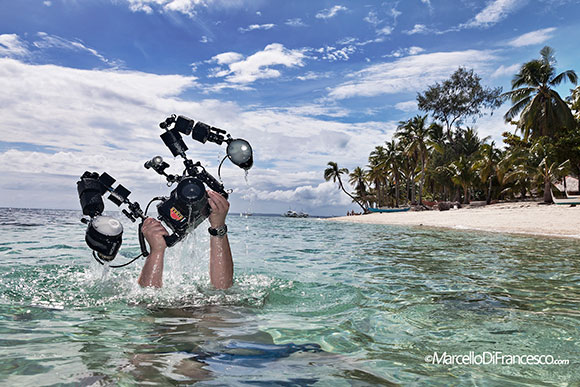 ScubaPortal TM – All Rights Reserved