Author: Marco Daturi
Pictures by Adriano Trapani and F-Photography
Some weeks ago, during a fun dive, we met a mermaid… maybe narcosis?!! But
no! Mermaids exist… and we can prove it! We decided to ask an interview to a
beautiful one… Katrin Felton, a beautiful and smart mermaid.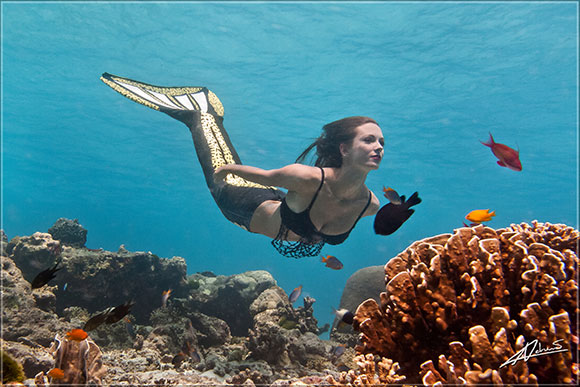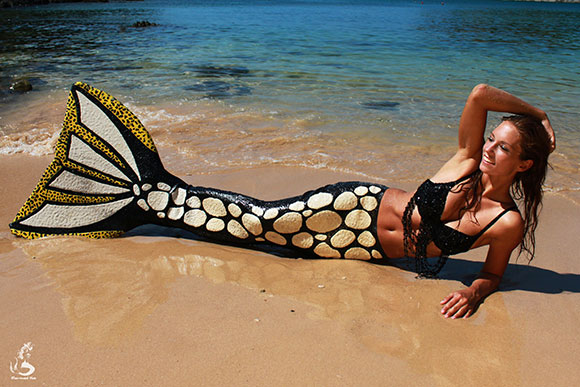 Beyond the mermaid who is Katrin Felton?
I am just a crazy girl that loves travelling, nature and adventures. Back in
Germany I started modelling some years ago also became "Miss Germany
International 2006" and "Queen of the world Germany 2007". I enjoyed modelling
very much because I had the chance to see places I probably wouldn´t have gone
to if I hadn´t gone there for modelling jobs. I love changing my style and
personality and now as a mermaid I can live this passion even more.
When did you start loving the oceans?
I always loved water. Even when I was little I loved to swim but mostly
underwater. The ocean is far away from my home town back in Germany so I saw the
ocean maybe once a year when I went to Spain for my summer holidays. But even
then my family preferred letting me swim in the pool instead of the ocean
because they were scared that a current could take me out too far. But as a big
animal lover I started to support anti shark finning campaigns even before I had
ever been scuba diving. I was always fascinated by the underwater world and
after I did my first diving course I couldn´t get enough of the ocean. Now I am
a scuba diving instructor, certified freediver, professional mermaid and mermaid
trainer.
What made you feel and become a mermaid? Is there a story about this?
When I first saw Disney´s "The little mermaid" I always wanted to become a
mermaid. I wanted to jump in the pool with a mermaid costume but at this time
there were no mermaid tails to buy anywhere. Also my father told me if I jumped
in the pool with my legs tied together I would drown. So I always crossed my
legs, hoped they would turn into a mermaids tail and when I went to the pool
with my friends we always played to be mermaids swimming in the "dolphin style"
underwater. After I started scuba diving I remembered my childhood dream of
becoming a mermaid. I ordered my first mermaid tail on the internet and "Mermaid
Kat" was born. I knew right from the beginning that I didn´t just want to be a
hobby mermaid. I knew that I wanted to become a professional mermaid. In May
2012 I had my first two official mermaid events when I was swimming in the shark
tank of "Underwater World Pattaya" to support the "Clean Oceans" campaign and on
the event "Bliss Beach Ball" in Phuket. Lots of stuff happened in the last year.
I opened my mermaid academy and have been teaching mermaid workshops in Thailand,
Malaysia and Indonesia already. The next workshop will be in the Philippines. I
also opened my mermaid shop (www.mermaid-kat-shop.de) where I sell mermaid tails
and other mermaid equipment. I really enjoy being a mermaid there is just one
thing that makes me sad from time to time. My father who told me that I would
drown if I jumped in the water with my legs tied together passed away when I was
16. So he will never be able to see that his little daughter actually turned
into a mermaid and is now swimming the ocean with mantas, turtles, sharks and
much more.

Who is the designer of your costumes?
I design most of my mermaid tails by myself. All my mermaid tails are
professional freediving mermaid tails as they have to be strong enough to swim
in the free ocean environment with currents and waves. Some of my tails have
been designed by my mum. She really got into the whole mermaid tail creating
thing and so we opened our mermaid shop together. We are selling fabric mermaid
tails for beginners and hobby mermaids. They all include a professional
freediving monofin and are easy to handle. For more professional mermaids we
also create unique neoprene mermaid tails costumer sized and hand painted.
A mermaid is a legendary aquatic creature with the upper body of a female
human and the tail of a fish. Do you feel more human or more fish?
I actually think that the tail of a mermaid is not a fish tail. It is more a
sea mammals tail like the tail of a dolphin or whale. Fish swim by moving the
tail to the left and right, dolphins, whales and mermaids swim by moving the
tails up and down and we also have to come back to the surface to breath. I
think both my human and my mermaid personality are very strong so I just love
switching between these two characters.
Christopher Columbus reported seeing mermaids while exploring the Caribbean,
and sightings have been reported in the 20th and 21st centuries in Canada,
Israel and Zimbabwe. By the way, the U.S. National Ocean Service stated in 2012
that no evidence of mermaids has ever been found. What do you want to say about?

Well I don´t know if real mermaids exist. I have never seen any so far. I
have seen documentaries about "real mermaids" but to be honest I found them
quiet scary. I can just say we know more about the moon than the ocean so if
there are real mermaids out there I just hope they are clever enough to not be
found by humans. Otherwise I am sure the humans would start to catch them for
"mermaid fin soup" or something like that.
The fairy tale The Little Mermaid (1836) by Hans Christian Andersen became
very famous with the mermaid similar to a water nymph in German folklore who
could only obtain an immortal soul by marrying a human being. We know you are
inspiring a lot of people through the social media and direct contact. Is a new
legend becoming popular? are new media useful in this?
I think in times like now the media we have like the internet is very helpful
for artists like me as a mermaid. Without my website, facebook page and youtube
channel I would't have a big chance to show my work and passion to the world. It
is nice that you can take a cool underwater video for example and upload it on
youtube. Thousands of people have the chance to see me swimming as a mermaid.
Without that I don't think many people would know about Mermaid Kat.
We know you love nature and are interested of environmentalism. How is this
important for you?
Nature and the environment have always been important for me. Even when I was
little I used to pick up trash from the streets or the forest. And I always had
this big love for animals. Actually I prefer being around animals than people.
Animals are honest not like people. Humans destroy our world. They just take and
take and take and never give anything back to the nature until our planet is
completely ruined. Sharks for example have been swimming in our oceans almost
450 million years and were able to survive all big changes on our planet. But in
this short time humans are around they managed to kill so many of them that they
are already endangered and if nothing changes will be extinct soon. Another
thing is plastic pollution. In the pacific ocean there is already a plastic
patch that has twice the size of Texas and if you think about that just 15% of
the trash in the ocean is floating at the surface I really don't want to know
what the ocean's bottom looks like. But if we think about the fact that plastic
exists for about 60 years and there is already so much plastic on this planet
what will this world look like in 100 years from now? Because all the plastic
that is already there will still be there and all the plastic from the next 100
years as well, imagine one single plastic bag can take up to 1000 years to
decompose. There are so many problems involved with that. Millions of sea
animals die every year because they eat plastic or get tangled in it. And on the
other side… Imagine you catch a fish and eat this fish. But this fish ate
plastic before. It doesn't mean anything else than you eat plastic and after a
while you will get seriously sick. Not me because luckily I am a vegetarian.
Mother earth has enough to give to every creature on this planet but not for the
greed of the humans. In Thailand I see them going out fishing every day but
without any control or thinking about the ocean's balance. There is nothing left
in the Phuket area. When I got out diving I don't see much any more. That is the
reason why my husband and I decided to leave Thailand. It is so hard to see how
some people destroy our planet just to make some cash. This planet belongs to
all of us but it seems like some people try to take everything away without
leaving anything here.
The statue of the Little Mermaid is an icon of Copenhagen. We in Italy would
be pleased you to be an icon for us as well. Would you like it?
Oh wow! That is an honour! I would lie if I said I wouldn't like it. But
honestly instead of having me as a person as the icon I would be more happy
about having my message as the icon. My message to take care about our planet
and the creatures living here with us. Animals are living here with us not for
us so it would make me happy if more people started to think about that. If we
all stopped using plastic bags for example that's around 300 plastic bags less
per year, per person which don't end up in the nature like the ocean. That means
we could save millions of animals lives. Getting messages like this more out to
the people would make me much happier than just being an icon.
We found many items in your shop www.mermaid-kat-shop.de . That's cool! Are
there many mermaids following you?
Well actually yes there are quiet many people interested in what I do and are
following my work. Of course being a mermaid is not just my dream it is the
dream of many girls and more and more also of men. That is why I decided to open
my mermaid shop. The shop went online on 1st April this year and is available in
German and English. You can buy different kinds of mermaid tails like fabric
mermaid tails for beginners and hobby mermaids and neoprene mermaid tails for
everyone who sees in mermaiding more than a once in a while hobby up to a
professional level. All the mermaid tails in my shop include a professional
freediving monofin. As a scuba diving instructor and certified freediver it is
important for me that my mermaid tails have a good quality and are powerful
enough to freedive in the open sea with currents and waves. Before I started
creating my own mermaid tails I used tails of other mermaid shops but often the
monofins were self made and didn't have enough power to keep up with sharks or
manta rays in the ocean or broke when you wanted to swim a little bit faster.
With the mermaid tails I am selling in my shop I am very happy and I use them
for myself and also in my international mermaid workshops. The feedback of my
costumers and mermaid students is very good and thanks to the Mermaid Kat Shop
we have already quiet some more mermaids and mermen in our world.
What would you say to our Italian divers, followers of ScubaPortal?
First of all I want to thank you for inventing Pizza and Pasta 🙂 I just love
that stuff!!! Ok but apart from that I hope that every diver really enjoys the
incredible underwater world and treats it with respect without touching anything
underwater, don't feed any wild life and don't throw any waste in the nature like beaches or the sea.
Other pictures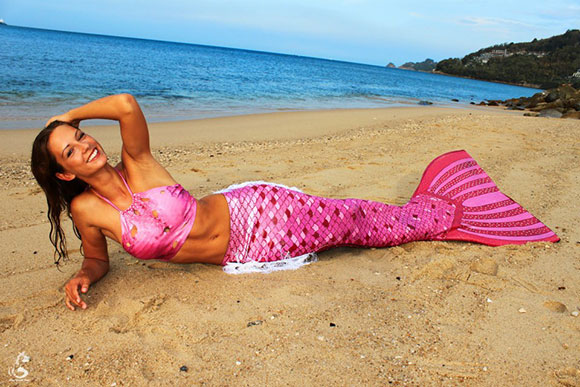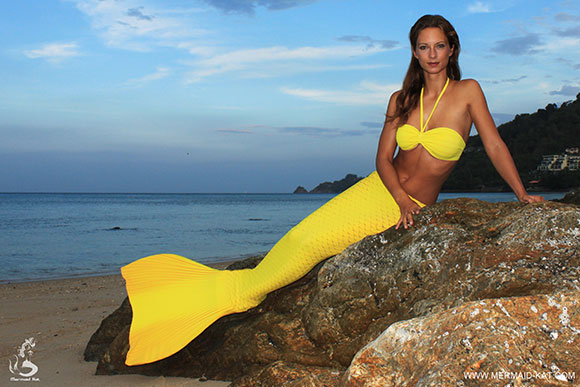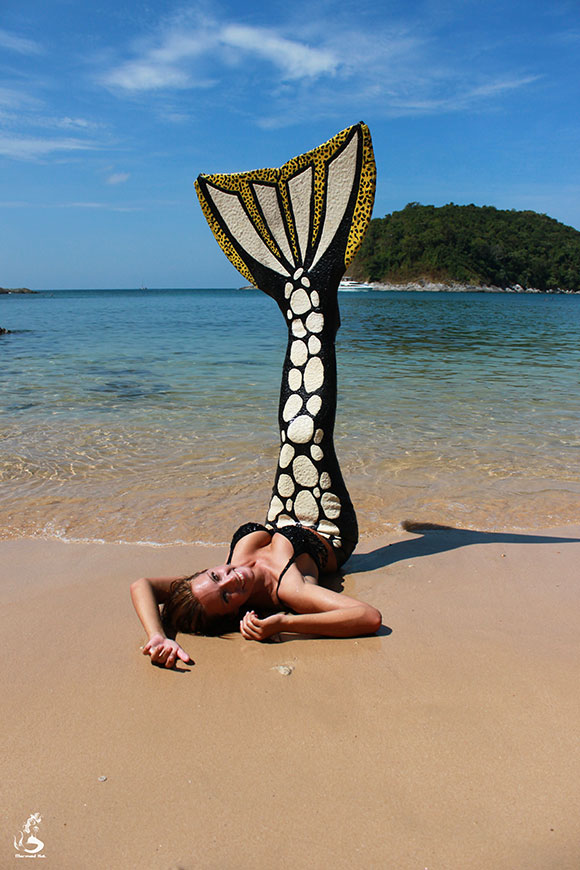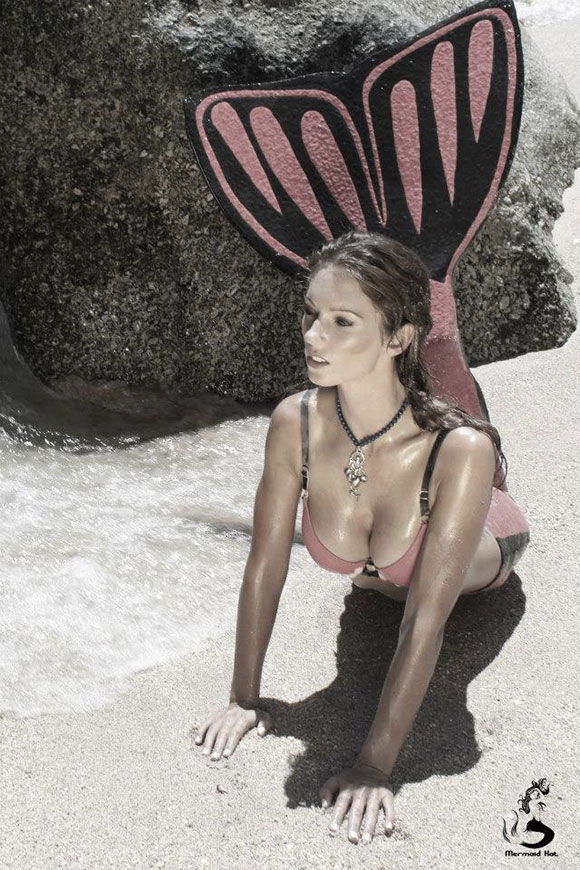 © ScubaPortal ® – All Rights Reserved